Company profile
---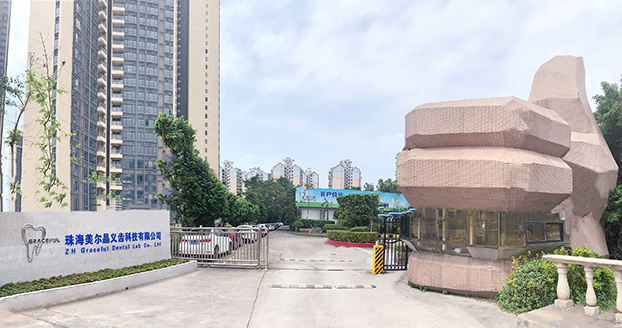 ZH Graceful Dental Lab was founded in June of 2007. It located at the downtown of Zhuhai City: No.103 Baishi Road, Xiangzhou district, with a beautiful environment factory area around 12000 square meters. It is a modern industrial site with production center, living center, and Administration office.
Company main products included Fixed PFM crowns & bridges; FMC; All kinds of the removable partials; All ceramic crowns such as E-max, Esthetic, Zirconia, Bruxzir; All kinds of implant crowns & bridges; Customized implant abutments; Complicated attachments & combination cases; All kinds of the orthodontic cases, 3D printed prosthetics, and other prosthetics. We are focusing on US and European market, but we are always opening our mind to get more market from all over the world. Now with huge professional technicians teams and great productive capacities, ZH Graceful Dental Lab is became the one of the best Dental lab in China.
Digitalization is one of the Key elements to drive the innovation for our Dentistry. The lab is equipped with many advanced CAD/CAM milling machines which developed and manufactured by ourselves, and we are the first one among the China dental labs who did the investment to get the high-tech dental production equipments and learned the advanced international dental acknowledges. In the past few years, under the correct enterprise strategic planning and talent development mechanism, we have already grown into a strong dental team with a lot of experienced dental technicians and professional management style. With decades of experience, we obtained the medical equipment production license in China; USA FDA approval; ISO 13485: 2003 quality system certification; the ISO 9001:2008 quality system certification; the ISO 9001:2015 quality system certification; ISO 13485: 2016 quality system certification, and GMP certification from CFDA.
Since the first day we open the lab, these years we are always thinking about to provide the high quality products and services to the patient. Through learning different excellent company's advanced management experience, we got our company vision is "TO BE A LEADER OF CHINA DENTAL LABORTOARY", which we wish everyone has the beautiful & healthy teeth, and finally we can reach our business mission "Everybody is pride of their beautiful teeth!". Based on these goals, we are improving our managements without stop, and now we are getting the unique, advanced, practical and efficient corporate culture, having already become to the most outstanding lab in the dental field of China.
Now we are the lab who has the most competitiveness in all China dental labs, but most important is that we know the past doesn't means anything, and if no progress also means far behind, so, all of us are continuing to grow with sustained effort, and we always remember our finally goal is getting to be a dental group with high-end international competition ability.